It's Tasty Tuesday! Where I share with you a recipe I decided to try our of my recipe box as explained
here
. This past week I decided to thaw out some Stew Beef and cook up a really easy recipe called Easy Beef Stroganoff....it says Easy right in the name for a reason!
Ingredients:
1 to 1 1/2 lb Stew Beef
2 tbsp Oil
1 pkg of Egg Noodles (I just used an amount that I felt appropriate, I didn't actually use the whole pkg I had)
2 cans Cream of Mushroom Soup
6oz Sour Cream
All you have to do is....
Prepare noodles and drain noodles
Fry Beef with 2 tbsp Oil
Add Beef, Soup and Sour Cream together and mix it all together!
Serve....seriously that is it!
Reviews: My husband who is such a critic said he would eat it again...which for him is a compliment I think! My 18 month old didn't seem to be a fan but I thought it was good. Of course being so easy I didn't think it was the best Stroganoff I have ever had but good!
Inspired by Tasty Tuesday!
Parties I'm linking up to:
Sunday Parties:




Wednesday Parties: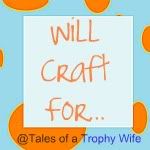 Thursday Parties:




Other Parties: