With so many people making posts of their Christmas decorations I just had to join in. I don't decorate my home until after Thanksgiving but a couple of years ago I decorated this wreath for our front door. When I was younger, my younger sister and I decorated wreaths or mini trees almost every year! This one is pretty simple. I got everything I used at Walmart the day after Christmas so it was all like 75% off! LOVE a good sale!
So I made the bow by cutting off the desired amount from the roll. I made the several loops around and secured them by wrapping them in the middle (the ribbon is wired). Okay so I'm still not great at bows....I just winged it but hope this year to learn how to really make a bow!
I looped the same ribbon around and through the wreath. Wired in some glittery icicle ornaments. The End! Super simple!
(The lights were already on the wreath....everything I used I got for sale after Christmas!)
Inspired by the Christmas Spirit
Parties I'm linking up to:
Sunday Parties:




Wednesday Parties: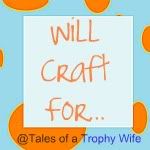 Thursday Parties:




Other Parties: