I want to share with you a little something I've been working on which will lead to an even bigger project that I've been working on! I'm kind of new at tutorials but hopefully you'll get it. I do have to hand all credit to this amazing tutorial
How to make a Yo-yo
I am in love with
Tea Rose Home
blog! Check her out....she truly inspires me, maybe she will do the same for you!
However here is my tutorial!
I used an empty Vanilla Wafer box
Cut out these circles...I wanted to try different sizes. Obviously depending on the size of the circle you cut out will reflect on the size yo-yo you end up with.
It doesn't look like it but this is my 2nd to smallest circle, not the smallest. The fabric I am using is from an old tube top that shrank up so much I doubt it would cover any of my belly at this point!
You then sew around the edges. Something I could not tell from the tutorial on Tea Rose Home is that you just sew loosely through 1 layer of the fabric, you are not sewing one layer to the next. Or at least when I tried to sew them together is made my final product way too puckered I thought.
Then you pull your string like a draw string...it will gather the fabric in the middle, you then tie it off and hide your knot and ta-da!
The top yo-yo is the one that I sewed both layers together and the one towards the bottom is where I just sewed through the 1 layer...I think the one towards the bottom turned out much better!
I have so many ideas for these little guys and when I have the project I'm currently working on complete I'll be sharing one way. I cannot wait to show you what I'm doing!
Here is a teaser kind of....I'm using these two colors for my Yo-yos....although I probably wont be using all of these Yo-yos on this one project. They are just so easy to make that I figured I'd go ahead and make a bunch!
Inspired by
Tea Rose Home
Parties I'm linking up to:
Sunday Parties:




Wednesday Parties: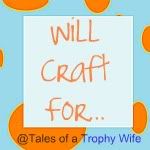 Thursday Parties:




Other Parties: