So here is a project that has taken me longer than it should have to complete. I've been working on it little by little for the past couple of weeks. Taking breaks to do other projects like
Money Envelopes
and bunches of
Yo-yos
....which have also come in handy with this project. I got the idea to buy and decorate a notebook for my blog notes from
WhyCuzICan
....isn't her notebook fabulous!? Ever since I started blogging just a couple of months ago I've been scribbling ideas on this pad of paper that I have on the end table next to my side of the couch....yes we somehow got assigned seats in our living room....please tell me we are not alone!? :-) Anyways...I like to be organized and as stated before I'm a self-proclaimed lister! So a notebook organized just for my blog notes was right up my alley!
So here we go! Most of what I do to my notebook I'm new at and found the ideas in Blogland which have made this even more fun for me to do!
But was super exciting and I failed to get a picture of was my first and yes you heard that right FIRST time using Mod Podge! I covered the back of the piece of burlap with Mod Podge, placed it on my notebook and put a little more Mod Podge around the edges to help hold them down a little better....THEN....I put in a frantic message to my friend
My Friends Call Me Suzy
"Does Mod Podge dry clear? The bottle doesn't say!" Thank the Lord her answer was "Yes!"....yay! I let it dry over night and yes it did!
Lastly.....
Yo-yos
that I made with a hot glue gun. The bottom two are just two little yo-yos I made with old shirts. The top "flower" is also two yo-yos I made. Obviously I made a big Yo-yo and then I took one of my smaller Yo-yos and glued it upside down to make up the middle of my flower! So..... just a few small things I've learned in blog land and put to use. Now I've got to start writing in my notebook!
As you can see...plenty more yo-yos where this came from and I have some more projects with them coming soon!
Inspired by
WhyCuzICan
Sunday Parties:




Wednesday Parties: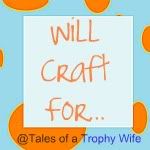 Thursday Parties:




Other Parties: