So tonight is our first night of Mike working on 2nd shift. So what did I decide to do with this time? Make "Money Envelopes" of course! Okay well I've thought about it a lot but today I really had it on my mind so I went for it because with Mike working 2nd shift I have the evening to do whatever I'm wanting to do...... as long as Gregory is okay with it! And he was....Good Boy!
By a raise of hands who here is familiar with Dave Ramsey and his teachings on getting out of debt!? I'm sure most people know about Dave Ramsey's proven philosophy but if you're not you should really look into it. I must admit I do not follow Dave Ramsey's instructions as I should and even though I have his book I have not read it yet....too busy blogging I guess! I do know of some of his steps to being debt free and I love his talk show. Steps such as paying towards your lowest bill first until it's gone and snow balling your payments to the next lowest and then to the next lowest until you have them all paid. He also talks about doing things with cash and separating that cash into labeled envelopes to help control your budget. Again....I still don't do these steps as well as I should even though I know about them. I do have a couple of envelopes...paper envelopes that I have been using. One for Christmas and one for grocery.....we usually pay all of our bills with Mike's check which goes directly into our account and my money is more grocery, shopping, gas money. We do need to put our budget into check but for starters I've been noticing my paper envelopes are falling apart after a short time....
What is a money conscious mom to do? Buy some plasticky envelope....I'll have to see if Walmart has them....no no no.....I could totally do this myself!
.............so I've been brainstorming how I should do these envelopes with what I have all day and here is what I came up with. If durable was what I was aiming for....I think I achieved it!
Here is my mess of supplies....I did four different envelopes so I had four different fabrics, four different color duct tapes and an envelopes where I laid a $5 bill on to show you that I chose this envelope to base my envelopes off of b/c a bill will fit with no problem with room for error....that room for error is always important to me!
I used the envelope to cut a graham cracker box big enough to trace onto the fabric for what I was wanting.
All cut out.....starting from the left. A light blue fabric that I also used for
Yo-yos
in a previous post that used to be a tube top, A gray fabric *my favorite color!* which was a pair of sweat pants that wore out, A pink fabric that I also used with my
Yo-yo
s that used to be a shirt and A teal that was an old job t-shirt. I'm recycling....I don't think I've ever recycled so much in my life as I have since I started blogging and seeing how resourceful all you ladies are!
I put bulk of the duct tape on one side and folded it over onto the other side of the fabric
All the way around
This will be the inside of the envelope
I covered what is going to be the outside of the envelope with the duct tape....super strength!
I folded it and taped up the sides
Envelope!
Velco with adhesive on the back...I know the color is way off but I only had black. I did seriously consider other ways of closing like a button w/ a hole, a loop and button, a snap button......but I either wasn't sure if it would work or it would create bulk (like a button) where I was shooting for a flatter more stack-able envelope! So velcro it was!
Closed with the velco
I labeled using a paint pen
They turned out perfectly and totally not ashamed to pull these out of my purse to pay....no longer a noisy paper envelope that is falling apart to pay the cashier!
And what was my little man doing while Momma worked!?
Inspired by Dave Ramsey
Sunday Parties:




Wednesday Parties: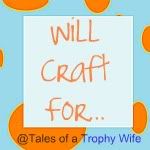 Thursday Parties:




Other Parties: